Toilet Chemicals
Week-long odor control for all climates and conditions. Just drop a single Porta-Pak into the holding tank and add water.
Rapidly breaks down paper & waste
Non-staining EVERBLUE color
Biodegradable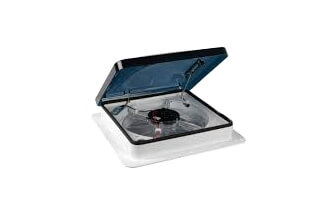 RV Roof Vent
Brings in fresh outside air economically and quietly and add extra ventilation to travel trailers and smaller motorhomes.
RV Toilet Paper
Designed for use in RV and marine sanitation systems
Clog resistant
Biodegradable and septic tank safe
Comfortable 2-ply
RV and marine approved. 4 rolls per case.
RV Vent Insulator
RV Vent Insulators fit snugly in the vent opening to help stop heat transfer. It helps keep your RV cooler in summer and warmer in winter. It has a removable fleece cover.
Reflective surface helps keep out the sun's heat
Increases your A/C efficiency
Reduces heat transfer
Saves energy
RV Hoses and Fittings
Having the right amount of pressure in your plumbing line allows for better running water and higher pressure showers. Make sure your RV's plumbing is up to snuff.
RV Waste Valve and Drains
Valterra T1001 RV Drain Sewer Waste Valve Assembly 1 1/2″ Hub x 1 1/2″ Spigot 1 1/2″ Slip Hub Flange on one side & 1 1/2″ Spigot Flange on the other side.
Waste Valve Extension Rod
Extends your RV's waste handle to side wall to allow for easier access. Adjusts from 10″ to 12″, Extends handle 10-12″ closer to side wall, Includes valve handle, locking tab, rod and rod coupler.
Sewer Hoses
Camco RhinoFLEX 15ft RV Sewer Hose Kit, Includes Swivel Fitting and Translucent Elbow with 4-In-1 Dump Station Fitting, Storage Caps Included, Frustration-Free Packaging
Air Conditioning Covers
The RV air conditioner cover is a fabric case that ties around the rooftop shroud of the AC unit when the vehicle or the unit isn't in use. Generally, they're made from vinyl and reinforced with weatherproof nylon thread and a parachute drawstring at the base to keep the case tight around the air conditioner.
Dometic White Single LCD Thermostat Heat/Cool/Fan
Large LCD display is easy to see and use even in low light, Large three-button operation, compact, low profile complements any interior digital calibration for consistent room comfort, Three models (cool/furnace, heat pump, heat strip) work with any RV application