Truck Lids Chicago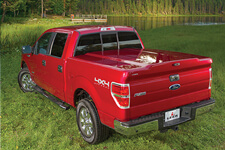 Are you interested in a protective lid for your trusty pickup? Here at the Truck Shop, we offer the very best in truck lids in Chicago and can help you find the right one for your unique truck and needs. We offer a wide variety of options and our fiberglass lids are custom fit and painted to your specific truck make and model, offering a stylish option to enhance your truck's appearance and functionality.
Whether you use your truck for personal or professional reasons or both, a truck lid is a great way to protect your truck bed and any valuable or expensive items that you store in your truck bed. And, they look great too! Because truck lids come in such a huge variety of colors and styles, it is easy to find the perfect match for your truck.
When you're seeking the very best in truck lids, come to The Truck Shop. We carry industry leader, Leer lids, for rugged dependability and sleek looks. We offer toppers for any model of truck whether it is commercially or personally owned too. When you go through us, you'll know you're getting a quality product at a good price.
Come by our showroom to see the truck lids we have for sale. Our expert staff members are on hand to answer your questions and to help you choose the best truck caps and other accessories for your wants and needs.
Truck Lids from the Truck Shop
The Truck Shop has been the trusted name in truck lids since 1999 and constantly strives to provide experience and professional customer service to ensure the area's truck needs are met. We carry the top brands to outfit and accessorize all major truck manufacturers. With LEER, you get truck lids that are beautifully engineered and are built to help you make the most of every mile, job, or adventure.
Located in Franklin Park, Illinois we are Chicago's one-stop Located in Franklin Park, Illinois we are Chicago's one-stop truck lid, cap and accessory destination. Our truck caps make your truck bed safer and more secure.
Our truck lids offer aerodynamic, low-profile design featuring LEER's SuperLift system as well as dimensional styling that integrates smoothly with the truck's body lines for a superior custom fit.
Visit The Truck Stop and we can answer any questions you have and even give you a free estimate.
Contact Us About Truck Caps
To learn more about truck lids in Chicago, call us at The Truck Shop, Inc. at 847-455-2233, or you can contact us to receive a Quote.