Chicagoland Truck Bed Liner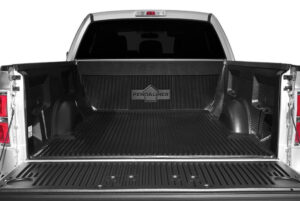 Do you use the bed of your truck frequently? Truck beds are incredibly handy for hauling but can undergo a large amount of wear and tear. Many people prefer to keep the bed of their truck open for easy access and to haul taller or larger items. If a truck cap or lid is not the option for you, you can still protect the bed of your truck and use it without restraint with a truck bed liner. Chicagoland trusts the experts at The Truck Shop for all their truck bed needs. We offer a variety of truck bed liners to help protect your truck bed through all of its hard hauling adventures.
A truck bed liner is great for preventing scratches and rust, providing better traction and making it easier to keep your truck bed clean. We have many options for truck bed liners so that you can find the perfect one for your specific needs. Call or visit us today to learn more. We can even give you a free estimate on how much you can expect to pay for your new truck bed liner. Why not visit us today so we can tell you even more? We are located just minutes south of O'Hare Airport, so stop in today to view our truck accessory and RV rental selection!
A Truck Bed Liner from The Truck Shop
Located in Franklin Park, Illinois we are Chicagoland's one-stop truck accessory destination. Since our inception in 1999, we have strived to provide experienced and professional customer service to ensure our customers' truck accessories needs are met. We carry the top brands to outfit and accessorize all major truck manufacturers.
As mentioned, we have some amazing options available when it comes to the truck bed liner, including:
Penda Bed Liners
Made in the USA, Penda bedliners offer up to twice the skid resistance of other drop in or spray on bedliners. The rib design helps guard against dents and scrapes. Plus, it allows water to drain away from the truck bed. The bedliner also resists gasoline, oil and most other chemicals. Penda bedliners are also custom fit with no drill installation and have tie down hole caps.
Bedrug Liners
Made in the USA, Bedrug truck bed liners feature rugged construction to handle heavy cargo. They also feature an anti-skid surface to prevent cargo from sliding. The 3/4″ cushioned floor is friendly on the knees. The bedrug is waterproof, chemical and stain resistant. Plus, it is easily cleaned with just water.
These liners will take care of your truck bed, so you can use it for moving, hauling and whatever you need without worrying about damage. For help finding the right truck bed liner for your needs, simply visit with one of our experienced sales staff. We will be happy to cover the differences between the liners and assist you in getting the best one for your needs and budget.
Contact Us About a Truck Bed Liner
Do you want to learn more about a truck bed liner in Chicagoland? Call us at The Truck Shop, Inc. at 847-455-2233, or you can contact us to get a Free Estimate.