Are you in the market for a tonneau cover that's easy to install, dent resistant, incredibly durable and looks great too? The HF350M and HF650M by Leer are America's sweethearts in tonneau covers and offer ease of installation, a sleek design and superior quality. Combining the best of all worlds; convenience, quality, versatility and style, these hard quad-fold tonneau feature a sleek, low-profile design with a true flush mount. Compatible with most truck models, the folding design means that each panel is lighter for easier access. And they're dent-resistant, keeping your valuable load safe for work or for play.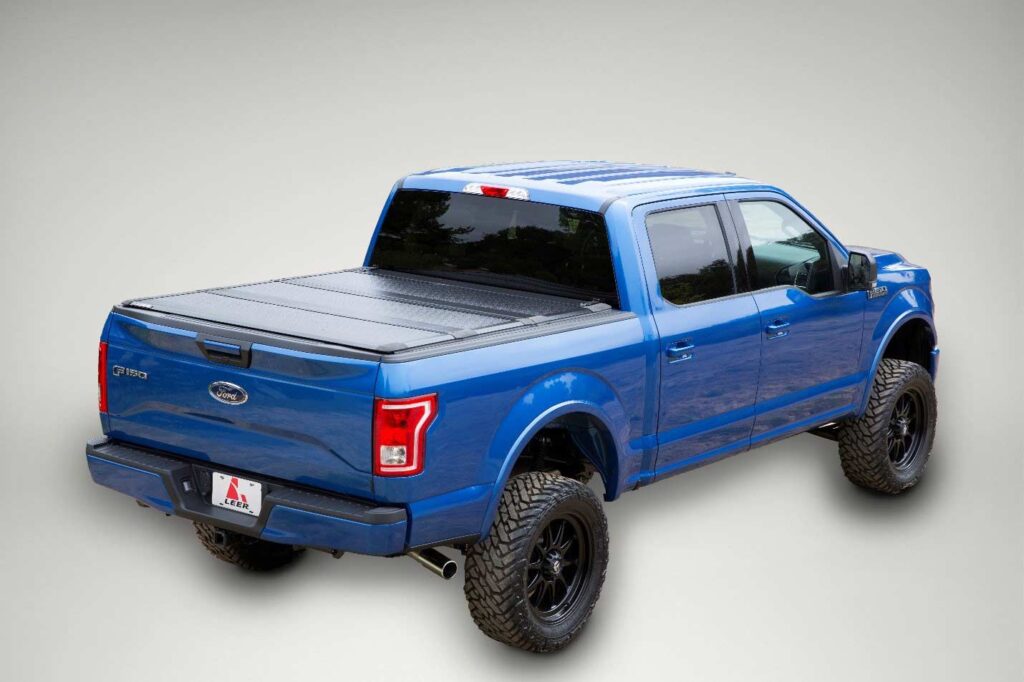 When you're in the market for Leer tonneau covers in the Franklin Park area, we have got you covered. We offer a wide variety of options in truck bed covers including these top trending, top-of-the-line designs. Here at the Truck Shop, we are proud to offer the best in tonneau, covers, caps and accessories and that includes the HF350M and HF650M by Leer. Area truck owners love these covers for their many fantastic features, including:
Easy on, easy off, no-drill installation
Exclusive CYNC latching operation from either side of the vehicle
Low profile, textured matte black panels
And more
The HF650M offers ultimate flexibility with four lightweight yet durable panels to accommodate loads of all sizes, surpassing competitors' product utility capabilities and making any hauling job a breeze. The HF650M also offers a superior water management system – requiring no drain tubes – multiple latching positions, and much more.
Simply put, these Leer tonneau covers offer the highest in quality and are built to enhance the lives of the truck's owners and expand the functionality of the trucks they drive and depend upon. Whether you use your truck for personal or professional reasons or both, these Leer tonneau covers are a great way to protect your truck bed and any valuable or expensive items that you store in your truck bed. With either the HF350M or HF650M, you will be able to confidently carry sporting equipment, construction supplies and many other items that you want to protect.
To learn more about the Leer tonneau covers we carry for Franklin Park and all of Chicagoland, call us at The Truck Shop, Inc. at 847-455-2233, or you can contact us to get a Free Estimate.