Tonneau Cover Schaumburg
Are you looking for a way to protect the bed of your truck but still have easy access? Or do you want to store items in your truck and keep them safe and secure? If you answered yest to either of these questions, you should consider a tonneau cover! A tonneau cover, also known as a truck bed cover, literally covers the bed of your truck. It stays flush with the top of your tailgate. This differs from a truck topper or cap, which is flush with the top of your pickup cab.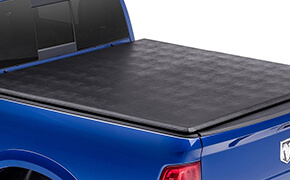 Tonneau covers give you the best of both worlds: you can have your truck bed covered but also uncover it when needed for full access to the bed. The Truck Shop can help you find a tonneau cover near Schaumburg to meet your needs. We sell a variety of brands and styles. Located in Franklin Park, The Truck Shop is just a short drive away.
Types of Tonneau Covers
As mentioned, there are various styles of tonneau covers. We'll highlight the main ones we carry. Your specific wants and needs will determine the best option for your pickup truck.
Soft Rolling
These covers are made from heavy-duty vinyl. As the name states, they can be rolled up to expose the tuck bed. Storage straps and buckles allow the cover to stay in the open position when you need to haul a taller item or want easy access to the bed of your truck.
Tri-Fold
These covers consist of three panels that fold on top of each other to expose the truck bed. With some varieties, the panels can be held in a stowed upright position behind the cab for open access to the bed.
Retractable
Easily and quickly get access to your truck bed with a retractable tonneau cover. Simply turn a knob and the vinyl cover will retract into a front canister. You can easily close again when needed.
Snap
A vinyl tarp snaps around the truck bed to framing. You can access all or part of your truck bed depending on where you open the snaps.
Solid lid
These are typically made of fiberglass and can be custom matched to your truck's paint color. They open with hinges to provided bed access.
Hopefully, this gives you an idea of the various types of tonneau covers we offer. We sell Leer, Extang, Truxedo and more.
Contact Us for a Tonneau Cover
If you would like more information on getting a tonneau cover near Schaumburg, don't hesitate to visit our store, give us a call at 847-455-2233, or contact us. Our experts at The Truck Shop will be happy to help you find the best cover for your needs!