LEER Tonneau Covers Franklin Park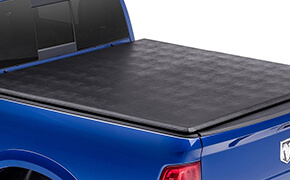 Tonneau covers protect your precious cargo, stylize your truck, and can even reduce wind drag while driving. Nothing adds to the polish, style and function of a pickup truck quite like them. And, there are several types of tonneau covers available to fit any need and any truck. Choose from soft roll-up tonneaus, hard and soft folding tonneaus, retractable tonneaus, hard tonneaus and more. Here at the Truck Shop we are the trusted name in Leer Tonneau Covers for Franklin Park and can help you find the right one for your unique truck.
Whether you use your truck for personal or professional reasons or both, LEER tonneau covers are a great way to protect your truck bed and any valuable or expensive items that you store in your truck bed.
We carry only the very best in Leer tonneau covers, including:
Latitude SC AND Latitude Soft Folding Covers
Ricochet XRT AND Ricochet Retractable Covers
LEER HF350M Hard Cover Tri-Fold
LEER SR250 Soft Rolling Cover
Each cover comes with its own unique yet of benefits including locking systems, dent resistance, ease of installation, seamless style, 3-year warranty and much more!
Ready to find the right Leer Tonneau Cover for you and your truck? Stop by our showroom to see the Leer tonneau covers we have for sale. Our expert staff members are on hand to answer your questions and to help you choose the best cap and other accessories for your wants and needs.
Leer Tonneau Covers from The Truck Shop
We are Franklin Park's and the entire Chicagoland area's one-stop truck accessory destination. Opened in 1999, we strive to provide experience and professional customer service to ensure our customers' truck accessories needs are satisfied. We carry the top brands to outfit and accessorize all major truck manufacturers.
Visit The Truck Shop in Franklin Park and we can answer any questions you have and help you pick out your new LEER truck cap. You will drive away happy and satisfied with your new purchase.
Contact Us About LEER Tonneau Covers
To learn more about LEER tonneau covers in Franklin Park, call us at The Truck Shop, Inc. at 847-455-2233, or you can contact us to receive a Quote.